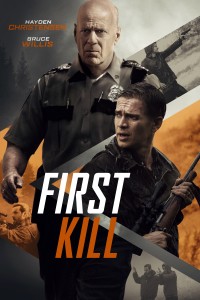 Action, Thriller

Available on VOD: 5 oktober 2017

Director: Steven C. Miller

Cast: Bruce Willis (Die Hard, Red, Sixth Sense, Split), Hayden Christensen (Star Wars: Episode II, III, Jumper), Gethin Anthony (Game of Thrones), Megan Leonard (The Life and Death of John Gotti)
In this gripping action thriller starring Bruce Willis, a man and his son witness a thug shooting a bank thief while on a hunting trip. When the bank robber takes the boy hostage in order to recover the money from the bank heist, the frantic father and a police chief (Bruce Willis) must join forces to solve the high-stakes kidnapping with a ticking clock.
Reviews
Chicago.suntimes.com: The blood-soaked potboiler First Kill is Generous Pour through and through, from Bruce Willis playing a cop for the umpteenth time in his career to the old switcheroo we can see coming a mile away to the pounding and overwrought score to some genuinely effective detours and subplots.
Variety.com: A reasonably entertaining series of off-road chases and backwoods shootouts en route to that final confrontation.
LATimes.com: First Kill features an efficient, lightning speed plot.
Maddwolf.com: Willis supplies his natural gravitas and Ohioan Shelton makes an impressive big screen debut. As young Danny, Shelton's easy rapport with Gethin Anthony (as kidnapper Levi) is a constant highlight.
Thatmomentin.com: A decent crime thriller.
Dallasfilmnow.com: First Kill is competent and involving. The action scenes — including one vehicle/RV chase that's constructed cleverly with an uninterrupted sense of place via gliding tracking shots — never feel unrealistic or exaggerated. And even though the film telegraphs a few of its third act character reversals, Miller and screenwriter Nick Gordon plumb the depths of innocence versus malignancy with a shrewd eye for satisfying entertainment.
TheIndependentCritic.com: fully devoted to telling a story and telling it well.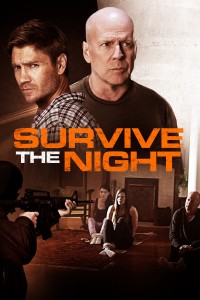 Action

Available on VOD: 6 augustus 2020

Director: Matt Eskandari

Cast: Bruce Willis (Die Hard, Red, Sixth Sense, Split), Chad Michael Murray (Left Behind, Riverdale), Lydia Hull (Van Wilder, Escape Plan 2), Shea Buckner (Escape Plan 2 and 3)
A family's raw emotions are pushed to the limit by two sibling criminals who take them hostage in the action-thriller SURVIVE THE NIGHT. As danger mounts, a patriarch (BRUCE WILLIS) fights for his home and honor; his son (CHAD MICHAEL MURRAY) seeks redemption; and a pair of murderous brothers (TYLER JON OLSON and SHEA BUCKNER) make demands that result in bloodshed and brutality. As they face off at a lonely farmhouse, the skills of one of them holds the balance between survival … and slaughter.
Reviews
Film is nog niet uitgebracht, dus nog geen reviews beschikbaar.